Galaxy Eco Solvent Printer UD-3212LC (with 2pcs DX5 Head,1440dpi,10FT) Printing
If the video can't play, also can watch the video on Facebook or Vimeo.
Videos on Facebook
Videos on Vimeo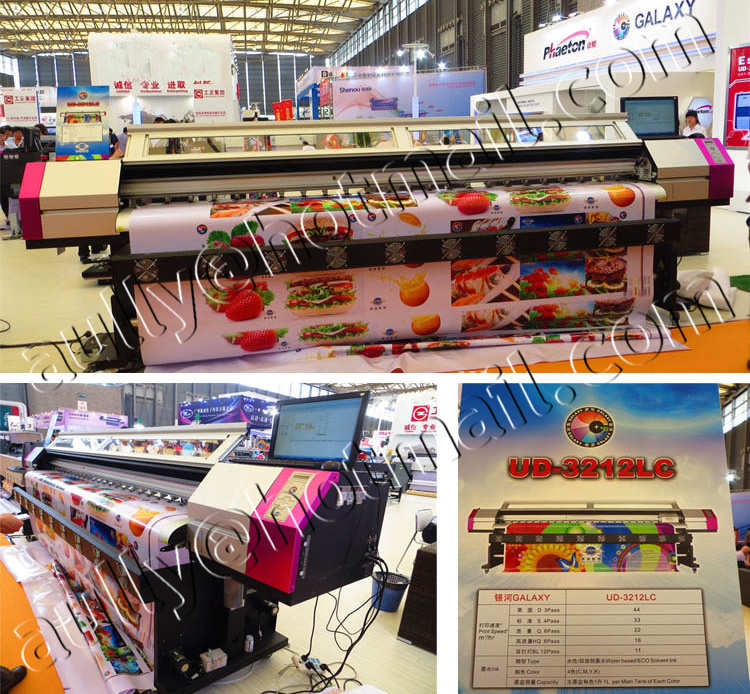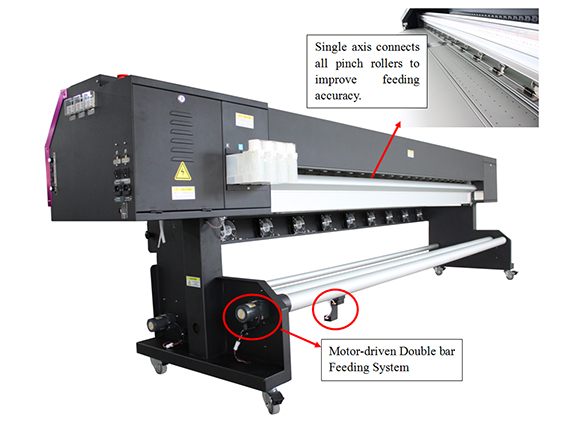 Full aluminum platform, X and Y axis AC servo motors, Bearing rail, stable and long durability.
(Flatbed) Eco solvent printer, 3.2M, Best Quality 1440DPI, with Epson DX5 head,can print both roll to roll materials,and flatbed board,best quality.

Full aluminum platform / X,Y axis AC servo motors / Bearing rail, Stable and long durability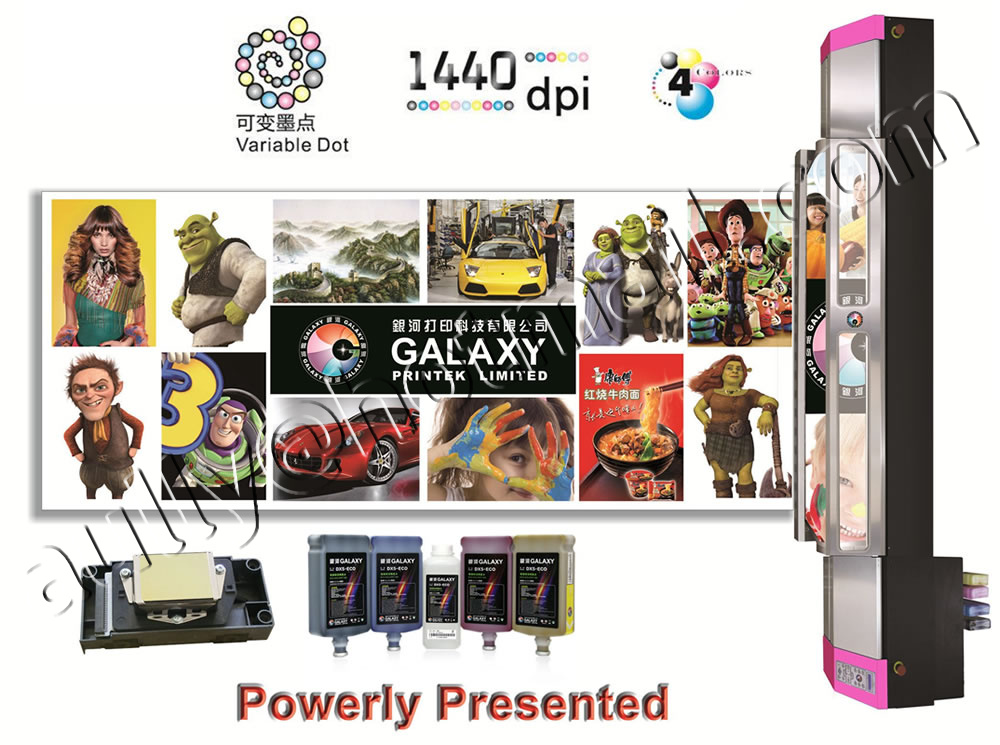 Product Model
ECO solvent printer 3212LC / 1440DPI
Printhead
Epson DX 5 ECO solvent print head
Nozzles
(180 Nozzles x 8 lines) x 2 print head
Print head high
2-10mm Above Media Adjustable
Max. material width
3200mm
Max. Print Width
3300mm
Output (m2/h)
Print Mode
Standard Output (m2 /h)
R.Draft 2Pass
65
Draft 3Pass
44
Standard 4Pass
22
Quality 6Pass
17
High Quality 8Pass
16
Backlit 12Pass
11
Ink
Type :
Eco-Solvent Ink
Color :
Dual 4Colors(Dual C\M \Y\ K )
Ink Supply System :
Auto Ink Supply System
Media
Roll owter diameter :
2 inch \ 3 inch
Type
Single paper(feed front).Roller paper(feed rear)
Max. weight for roller
80KG
Interface
USB 2.0/Hi USB
RIP Software
Maintop / Ultraprint
Media Feeding System
Equipped ( Take up System Optional)
Clamp
Equipped
Printing language
Standard printer languages
Power
AC220-240V,50/60Hz
Operation Environment
Temperature: 20~32 oC Humidity: 40%~60%
Machine Dimension
L4,500 x W905 x H1,260mm / 304KG
Package Dimension
L4,590 x W1,100 x H940mm / 547KG
The Speed data varies in different computer.
Inkjet printer prints with fine ink dots, so the printing colors may be different along with the chnage of printheads. When printing with serveal printers at the same time, a difference in printing colors may exists due to a difference exist in every single printer.
But as far as we know, most for the operation is similar for different printer.